Lukk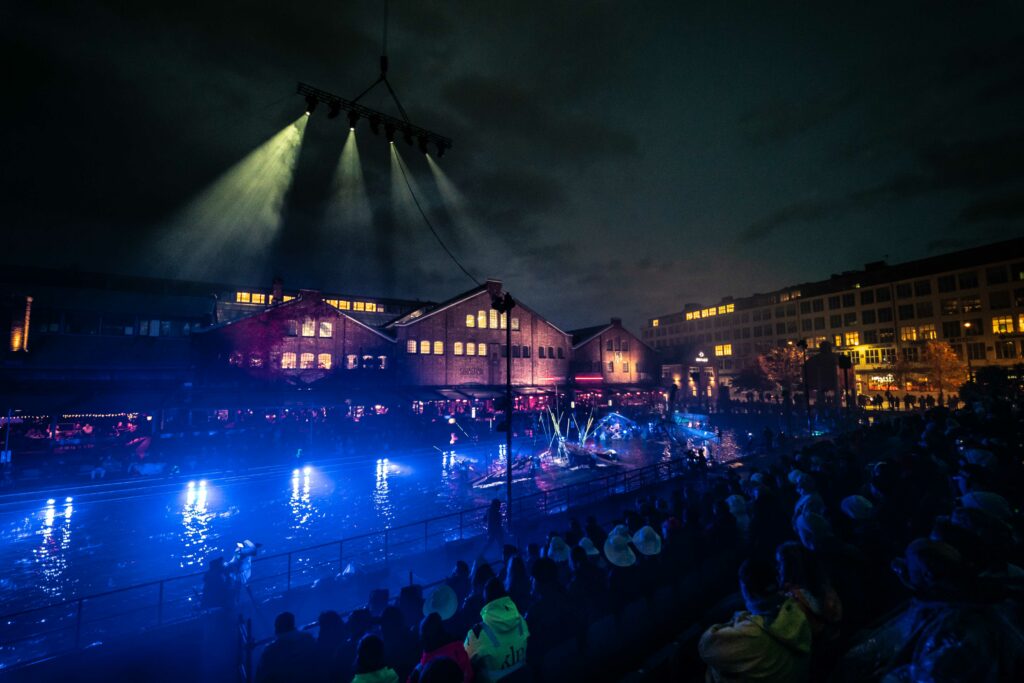 DRIV
Site specific live concert / outdoor theatre performance
DRIV is a co-production between Trondheim Kammermusikkfestival and Cirka Teater, created for the festival´s 25th anniversary in 2020, but postponed due to covid19 restrictions to 24th and 25th of September 2021.
DRIV is a large scale, site specific production that takes place outside in an old shipping dock in the middle of one of Trondheim´s busiest restaurant and shopping areas. On a stage filled with 40 centimeters of water and located beneath ground level, we try to balance the site´s possibilities and limitations with physical theatre, live music, as well as massive installations and machines created by Cirka Teater´s scenographer Gilles Berger. DRIV is an experimental and interdisciplinary performance and the number of people involved as well as the stage itself – 40 artists on a 85 X 15 meters dock filled with water – makes it a rare, technically complex and visually spectacular performance.
Ståle Storløkken has composed the commissioned work for DRIV, and it is played by Luftforsvarets musikkorps (some 26 musicians), Trondheim Voices (6 vocal artists) and Ståle Storløkken with 2 of his musicians – Kyrre Laastad and Tor Andreas Haugerud – playing live on small islands in the water. In addition Cirka Teater, 5 dancers and 3 actors interact with the musicians and installations in the water throughout the performance, creating a varied and assosiative universe of tableaus that work well with the musical development. Gilles Berger has also created a brigde for several powerful machines, such as a fire pump, an air plane engine with propellar, etc. Together with 4 machinists and an intelligent technical design, they create one of the most spectacular scenes of the performance: a giant storm.
DRIV is inspired by the old shipping dock and it's history of hard and ruthless labour. As it was postponed and also developed further during the covid pandemic, the threat of a dangerous virus and the uncertainty of what is to come, has also become a more visible theme. DRIV was a gift to the public, free of charge, and our hope was that it could inspire people to work together and to move forwards after a longer period of isolation and stand-still.
TEAM:
Scenographer: GILLES BERGER / Composer: STÅLE STORLØKKEN (commissioned work) / Directors and playwrights: ESPEN DEKKO, GILLES BERGER OG ANNE MARIT SÆTHER / Choreographer: LOAN TP HOANG / Musicians: STÅLE STORLØKKEN, TOR ANDREAS HAUGERUD, KYRRE LAASTAD, TRONDHEIM VOICES AND LUFTFORSVARETS MUSIKKORPS WITH CONDUCTOR TORODD WIGUM / Dancers and actors: CELINE MEILLAUD, LOAN TP HOANG, REBECKA LANGE, KAROLINE BERGH ELLINGSEN, MARIE RECHSTEINER, PAAL VIKEN BAKKE, ESPEN DEKKO, GILLES BERGER / Machinists: RICHARD VERLEY, GEIR DYRDAHL, HANS ANDERSEN, HEIDA JOHANNESDOTTIR / Atelier co-worker: RICHARD VERLEY / Costumes: INA SÆTHER BERGER / Costume co-workers: CATHRINE KOYMAN AND HEIDA JOHANNESDOTTIR / Light designer: SUNE SCHJELDERUP / Sound designer: TOR BREIVIK / Producers: IDA EILERTSEN and INGRID BJØRSNØS KVAM
Link to watch the full movie from DRIV, NRK HOVEDSCENEN (national TV):
https://tv.nrk.no/serie/hovedscenen-tv/2021/MKMU62014321
Supported by Trondheim kommune, Kulturrådet, Trøndelag Fylkeskommune